Whether it's a quick snapshop or a family portrait, photographing an Autistic child can be difficult. Getting them to sit still in one position, for any length of time, is hard to do. They may have sensory issues with bright lights. They may just be focused somewhere else. Here are some tips for getting the perfect picture of your Autistic child.

1. If you are using a photographer in a studio, make sure to let them know, ahead of time, that your child is Autistic. Address with them any issues your child might have with bright lights, or sitting still. This will give the photographer time to make changes with lighting and how to pose your child if need be.

2. Taking pictures of your Autistic child at home. A picture does not have to be taken by a professional to be good. If your child has a hard time sitting still, get a picture of them while they are sleeping.

3. Pick the best time to get that photo. Take your child to get their picture shot during good times of the day. If the afternoons, for example, are usually filled with temper tantrums and meltdowns... Make the appointment for first thing in the morning, or another time when your child is more relaxed.

4.Use a special toy. If your child has a special toy that helps them feel relaxed, bring it with you to the photo session. It might help the child to remain calm while having their picture done. If your child has to hold the toy, the photographer will be happy to get great shots of "child with toy." If your child does not like to look directly at the camera, have their picture taken while they are looking up. Profile shots can also be taken.

5. A photographer in your home. If you do not feel comfortable taking the pictures or you are looking for a special set of photos, have the photographer come tp your house. They can capture your Autistic child in their natural setting. In familiar surroundings, your child may feel more relaxed. Consider taking the pictures outdoors.

6.Standing or sitting? If your child can not sit still for a picture, let them to stand, or lie down, if they choose. Don't force them into a position they are uncomfortable with. This could lead to a meltdown. Have fun with this by allowing them to direct the photo shoot. If the photographer does not want to cooperate with this idea, you don't want this photograher, there are many others.

7. Word of mouth referrals. Ask around, see where other parents with Autistic children have gone for professinal photographs. They may know someone who has experience with special children.

8. Wear comfortable clothes for pictures. There are no rules that state that every picture must feature your child in formal wear. Uncomfortable clothing can really bother an Autistic child with sensory issues. If you want pictures in a special set of clothes or a costume. Have the child wear these clothes a few times prior to day of the photo shoot.

9.Pefect picture? Do not push too hard for the perfect picture. Pictures of children laughing and playing can be just as good as one where the child is posed. If you keep pushing for a perfect picture, you might upset the child to the point of getting no pictures. Go for the picture you have in mind, but be willing to abandon that idea, if need be.

10. Give the Autistic child time to warm up to the camera. Even professional models need to warm up sometimes. Let your child see how the camera works, if they have not had their picture taken before. Let the photographer take of picutre of you or someone else. This can make them more relaxed and calm.

It is nice to have a studio photo take every so often. But remember that these are unusual events in your autitisti child's life. Try and make the experience as calm and relaxing as possible. This will allow your child to feel at ease. The pictures will turn out better by letting your child be themselves.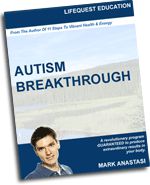 The NEW AUTISM Miracle Breakthrough - If you are intent on changing your child's life, there is new research out for people with Autism that has helped dozens of children reverse the effects of their condition.

To learn more about this AUTISM BREAKTHROGH, click here.


About the Author: Scott Harker is the publisher of several websites including: Sherlock Holmes Pastiches, The Chocolate Shop, In the Trade - Stocks and Bonds, Adoptions, and Taste of the Grape - Wine.


---
---
News about Photographs and Autism
XML error: SYSTEM or PUBLIC, the URI is missing at line 1