There are several kinds of medications used to treat Autism. These medicines fall into different categories based on the type of problem that is being treated. There is no medication to cure Autism, but certain drugs to help with some of the problems associated with this disease. Here are some of the medications prescribed in the treatment of an Autistic child.

Antipsychotic - This type of medication is used to treat behaviorial problems in children with Autism. Symptoms such as insomnia and aggression are treated with antipsychotics. This type of medication should be used only if behavior therapy is not working. Sometimes an Autistic child will try to harm themselves. Antipsychotic drugs can help control such actions.

Anticonvulsant - Some Autistic children have seizures. An anticonvulsant is used to control the severity of a seizure or prevent them from occuring.

Depression and Anxiety Medications - A large portion of Autistic children are faced with depression and anxiety regularly. They may need medication to help control these feelings. A note of caution about the use of drepression and anxiety drugs. These medications are found to cause suicidal thoughts in some kids. If your child has been prescribed for these conditions, watch for changes in your child's behavior.

Sedatives - Children with Autism sometimes have a hard time falling asleep at night. In such cases, they maybe given a sedative to help them sleep. There are natural alternatives that should be researched for long term solutions. Sedatives have can make your child dependant on them to fall asleep so must be used sparingly.Check out SleepTracks Sleep Optimization Program and Natural Sleep Secrets - Cure Insomnia.

Stimulants - Stimulants are used to treat kids with hyperactivity. They may also be prescribed for children that are having a hard time paying attention or concentrating. Such medications can help the child focus longer. This can be useful for a school age child who is having difficulty paying attention in school. Stimulants can help a child who is having problems staying focused on their school work. Judicious use of such drugs can mean the difference in passing or failing.

Medications are used to treat the symptoms associated with Autism. They help the Autistic child to overcome certain problems that arise from his or her condition. Parents need to be careful when using any medications with their children. Some of these medications can have terrible side effects. Each child will react differently to the various drugs your doctor might recommend. If you notice the medicine is not helping, consult your child's doctor.

Medications are not used alone to treat the Autistic child's problems. They need to be combined with other types of therapy to successfully work in treating Autism.

Always use the lowest effective dose of the medications. Do not start or stop a medication without talking to your child's doctor first. Some Autistic children do not speak, so it is important to watch for changes in their behavior. If they begin acting strange, they could be having a reaction to the medicine, and need to see the doctor.

Medicating your child should be a last resort when treating Autism. If it must be used, combine the medication with other forms of therapy for better results. Remember the medicine is not a cure for Autism. TheSe durgs just helps to lesson some of the symptoms the child is experiencing. Always be sure of the correct dosage of medication to give your child. Talk to the doctor about any long terms side effects caused by the prescription.

Also make sure to ask the doctor about any adverse interactions with other medications your child is taking.

Sometimes medication will be the only thing that helps your Autistic child. Just make sure the child is monitored for any side effects.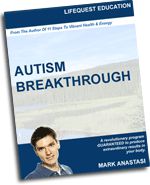 The NEW AUTISM Miracle Breakthrough - If you are intent on changing your child's life, there is new research out for people with Autism that has helped dozens of children reverse the effects of their condition.

To learn more about this AUTISM BREAKTHROGH, click here.


About the Author: Scott Harker is the publisher of several websites including: Sherlock Holmes Pastiches, The Chocolate Shop, Guide to Niagara Falls, All About Telescopes, and Taste of Variety - Free Apple Recipes.


---
---
News about Autism and Medications
Google News