It may seem like a daunting barrier arises when it comes to sending your Autistic child to school. They maybe doing fine at home, but will their special needs be met, when it comes to be in a classroom? Be assured that many children with Autism go to public schools and do just fine with some special modifications.

There are laws pertaining to kids with disabilities and school systems, in general, have worked hard to make sure they can fulfill the laws requirements. Still knowing your rights and your child's rights is important. Here are some of the things you will need to know about Autism and school.

The Individuals With Disabilities Act - Part of the provisions of Individuals with Disabilities Act apply directly to the educational system - to ensure that all children receive a free and appropriate public education that meets their needs. The act requires children with special needs to have special education service as long as they meet the requirements as detailed in the Act. Autism meets that requirement.

Free and Appropriate Education - This is an education that meets the specific needs of your child. It is one that allows them to make progress in learning.

Least Restrictive Learning Environment - This means that your child will be placed in an educational setting that supports their special needs and yet allows them to socialize with kids that do not have a disability. The school will do, what it can, to meet the needs of your Autistic child while keeping them in regular classrooms.

To determine what special needs your child will require the school will evaluate your child. This evaluation can be requested by the school or the parent. If you think there is a problem in the classroom, write a letter to the school asking them to evaluate your child. They will, in turn, send a paper home for you to sign, asking for permission for an evaluation to take place. During the assessment, your child will be tested for learning disabilities as well as for mental or behavioral problems. After the evaluation is complete the school will meet with you to discuss their findings. And to determine what can be done to help your child.

Individualized Education Program - IEP - After you child's needs have been assessed, an IEP is designed to ensure that children with disabilities, autism, for example, are taught by highly qualified teachers and receive research based instruction. The group that evaluated the child will be part of the team that creates the IEP. The parents will also have a say in what is included in the IEP. An IEP will state the needs that must be addressed for the child to get an appropriate education. They will also list the services the child is going to receive in the IEP. Some examples of services that might be included in an IEP are extra time when completing class work, having tests read aloud to the child, or an aide might be provided for the child. Methods to correct behavioral problems will also be included.

IEP's are not one-size-fits-all solutions. Instead each IEP will be different for each child. The IEP will be evaluated on an annual basis where improvments and changes will be made as necessary. The IEP can be re-evaluated at any time, at the parents' request, if the services are not working for the child. The parents, of course, have the right to be at every IEP meeting held.

Ultimately, you are your child's best advocate when dealing with the school system. Some schools will try to give you the run around. They will do whatever they can to keep your child from having any special services in school. You have to be the one to stand up for your child. You are their voice. Be clear, be polite, but be persistent. Your child has the legal right to an education. If you do not feel comfortable dealing with the school, alone, or feel you are not getting through to the school, there are lawyers and advocates out there to help you.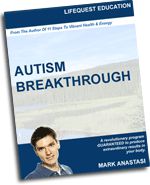 The NEW AUTISM Miracle Breakthrough - If you are intent on changing your child's life, there is new research out for people with Autism that has helped dozens of children reverse the effects of their condition.

To learn more about this AUTISM BREAKTHROGH, click here.


About the Author: Scott Harker is the publisher of several websites including: Sherlock Holmes Pastiches, The Hoppy Store - Collectible Frogs, In the Trade - Stocks and Bonds, Name for Your Baby, and Global Warming - Save The Earth.


---
---
News about Autism and Schools
This RSS feed URL is deprecated, please update. New URLs can be found in the footers at https://news.google.com/news
Google News